Back to top
Idealease Expands Mobile Service Fleet to 400 Vehicles in North America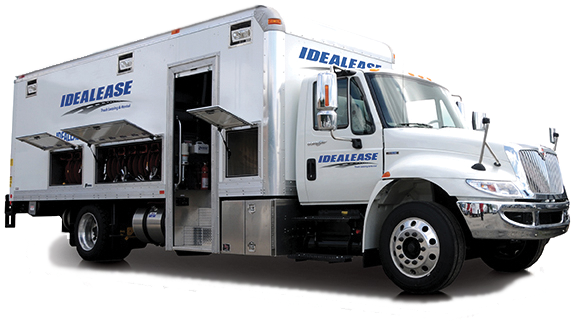 NORTH BARRINGTON, IL—April 9, 2019—Idealease, Inc. reached a milestone in April 2019 when it added new Mobile Service trucks at Idealease locations in Indianapolis, Indiana and Portland, Oregon. The Idealease network now operates a total of 400 Mobile Service vehicles based out of 200 Idealease locations across the U.S., Canada, and Mexico.
Idealease Mobile Service vehicles are fully equipped and stocked to support a wide variety of maintenance checks and repairs for truck fleets of five or more owned or leased units. Idealease customers are able to schedule Preventive Maintenance (PMs), minor repairs found during PMs, and vehicle inspections (DVIR write-­‐ups)
on-­‐site when their vehicles are not operating during convenient off-­‐hours and weekends.  Mobile Service improves vehicle uptime, optimizes drivers' available hours of service, and reduces fuel expense because the vehicles don't need to be moved to and from a service location.
"Idealease was first to market Mobile Service as a system-­‐wide product offering 15 years ago," says Lance Bertram, Idealease Senior Vice President of Sales, Marketing and Distribution. "It was a game changer for the commercial truck leasing and rental industry and it quickly became an essential value-­‐added service for our customers."
"What truly differentiates Idealease Mobile Service is the highly trained and certified Idealease Mobile Service technicians who are employees of our locations and experts in vehicle service and repair," adds Dave Helge, Idealease Vice President of Maintenance and Safety. "We rely on them to perform critical commercial truck maintenance and they build strong professional customer relationships on-­‐site while they maintain their fleets."
"Our Mobile Service maintenance and repair capabilities are a major differentiator for Idealease," explains Dan Murphy, Idealease President and CEO. "Our network of locations are part of the company's unique organizational structure as an OEM-­‐aligned lease and rental enterprise. To insure the best possible vehicle uptime for our customers, our locations continually upgrade their Mobile Service vehicles and Idealease trains and certifies our locations' technicians."
Idealease delivers expertise, responsiveness and stability to the truck transportation industry through its distribution network that is affiliated with International® Truck dealerships in more than 430 community-­‐based locations. Idealease supports more than 45,000 trucks, tractors and trailers with the most proficient, manufacturer-­‐certified technicians, a vast parts inventory and the latest diagnostic equipment.