Back to top
Lewis Idealease Opens New Location in Bracebridge, Ontario, Canada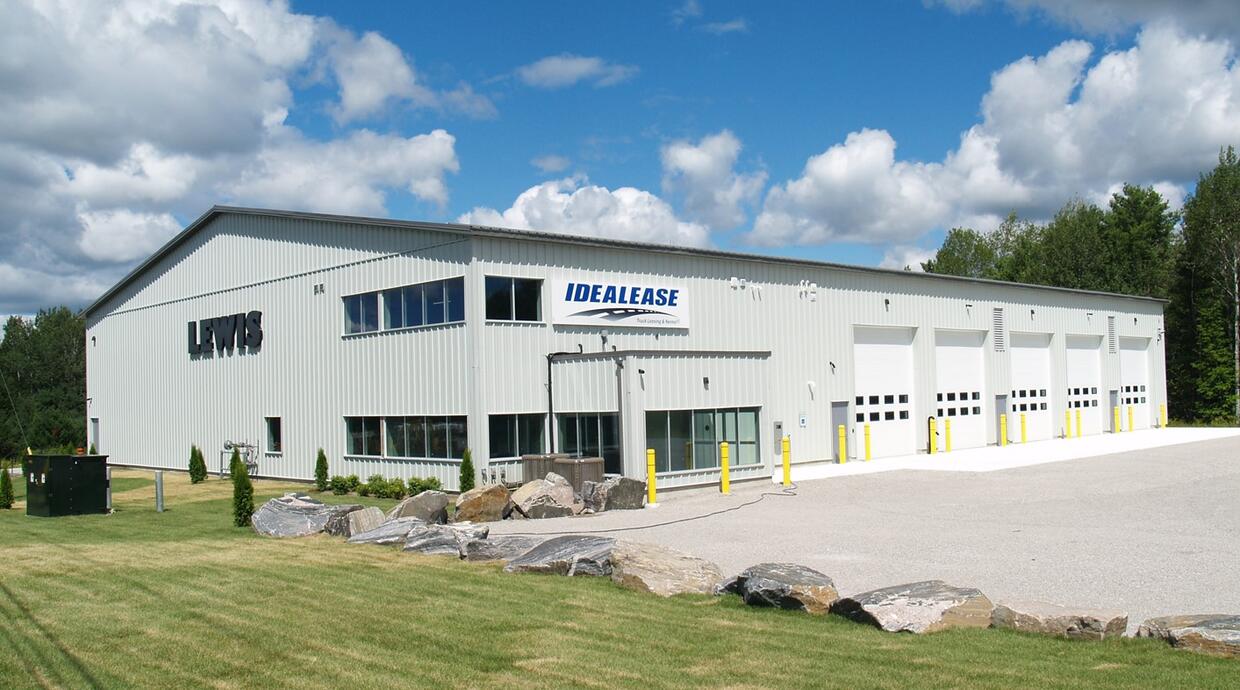 Idealease, Inc., North America's premier full-service commercial truck leasing, rental and maintenance company, is proud to announce Lewis Idealease a division of Lewis Motor Sales Inc., recently opened a new commercial truck lease and rental, and parts and service center located at 1 Kirkhill Drive in Bracebridge, Ontario, Canada.
The new 18,000 sq. ft. state-of-the-art Bracebridge location is conveniently located less than one mile from Highway 11. It is situated on more than seven acres and it features a parts warehouse and five drive-thru bays, including one lube pit/wash. The building includes extra wide sliding glass entry doors to keep Ontario's cold winds out, in-floor heating, LED lighting with sensors throughout, and accessible washrooms. Plexiglas shields have been added to protect the health of customers and staff during the pandemic.
The Bracebridge location adds much needed service capacity along the Highway 11 corridor. It is strategically located 60 miles north of Barrie and 80 miles south of North Bay, two existing Lewis locations. Bracebridge will improve vehicle uptime because it saves an average 1.5 hours each way for customers and makes one-day turnaround for scheduled services possible. The location will also offer towing and recovery services to efficiently assist with accidents and emergencies.
"We invested more than $4 million to create our Bracebridge location because we see a strong rental and full service lease market developing here and we already have many loyal parts and service customers who have asked us to put down roots in this market," said Dale Lewis, CEO for Lewis Motor Sales. "Our new Idealease location in Bracebridge allows us to grow our lease and rental business and service the area much more efficiently and cost effectively. I'm thrilled we have significantly reduced the drive time to and from our doorstep for customers along the Highway 11 corridor and for our mobile service and parts delivery teams. Time is big money in our industry."
"With a fleet of more than 270 trucks, Lewis Idealease is the largest Idealease lessor north of Toronto," said Lance Bertram, Sr. Vice President, Sales, Marketing & Distribution and Chief Revenue Officer for Idealease, Inc. "They regularly achieve ONE Idealease recognition due to their outstanding performance in branding, customer service, and product offerings. Lewis Idealease provides a level of service and support that's tough to duplicate and they are well known for their unquestionable integrity."
The Bracebridge location is open from 7:00 a.m. to 5:00 pm, Monday through Friday. Their team can be reached at (705) 646-2677.
About Lewis Motor Sales Inc. Established in 1941, Lewis Motor Sales Inc. is one of the largest full-service medium and heavy-duty commercial truck dealerships in Ontario, Canada. Lewis is headquartered in Barrie and operates locations in Bracebridge, Collingwood, Newmarket, North Bay, and Owen Sound. Lewis offers the complete line of International® and ISUZU brand trucks. Lewis is also a Tailift Forklift dealer. Lewis has more than 150 employees and more than $5 million in parts inventory. Lewis Idealease, a division of Lewis Motor Sales Inc., is the largest leasing company north of Toronto with more than 270 trucks in its fleet. Lewis Idealease provides full service leasing as well as short and long-term rentals. Lewis is committed to providing exceptional customer service, dealing with fairness and integrity, and supporting their local communities. For more information visit www.lewismotorsinc.com.