Do Your Customers Rely on Just-In-Time Deliveries?
We understand that strong customer relationships are built on consistent deliveries that arrive on time…every time.
To maximize your payload, fuel efficiency, and performance requirements, you need the most reliable trucks that use current technology.  That's why Idealease offers a wide variety of industry-leading products like the International® MV™ and HV™ that can be equipped with optional features and specialized equipment suited for whatever your job throws at you. Telematics solutions are available to track arrival and departure times and give your customers peace of mind that their goods will arrive on time to meet their tight production schedules.
When you lease from Idealease, our unrivaled expertise in truck specifications guarantees you the right equipment for your job.
Let Idealease Help You Build A Stronger Business!
Idealease provides a safe, cost-effective alternative to truck ownership. Our comprehensive Full Service Leasing, Dedicated Maintenance and Rental solutions with our unmatched service and support programs will maximize vehicle uptime and help you serve YOUR customers even better.  Our more than 430 Idealease service locations employ hundreds of expertly trained technicians with access to an extensive parts inventory to repair your vehicle efficiently.

All Idealease vehicles are equipped with Navistar's OnCommand™ Connection Advanced Remote Diagnostics system, monitoring your fleet's health and providing real-time vehicle information that proactively identifies potential concerns while transmitting vehicle location, improving vehicle uptime, and more. OnCommand™ Connection offers up-to-the second fault codes on each vehicle to prioritize repairs before a major issue occurs.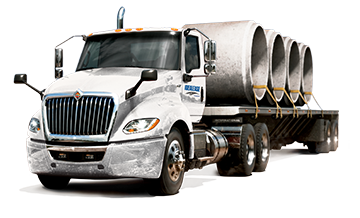 Maintenance & Service Benefits
Maximum vehicle uptime
Security of assets and real time vehicle location
Exceptional customer support with convenient and efficient vehicle maintenance and repair

Extended Hours of Service
Mobile Service
Priority Service
Idealnet 24/7 Roadside Assistance

Safety and compliance with vehicle regulations
Increased driver satisfaction and retention due to vehicle specs and driver comfort features
Improved driver performance and safety with Safety and Compliance services
Discounted rental rates for substitute vehicles
Other Services Available to Idealease Customers