Back to top
Idealease and NPTC Offer Seminar, "Driving Safety Through Business Intelligence in 2019" in 29 Cities for Truck Fleet Professionals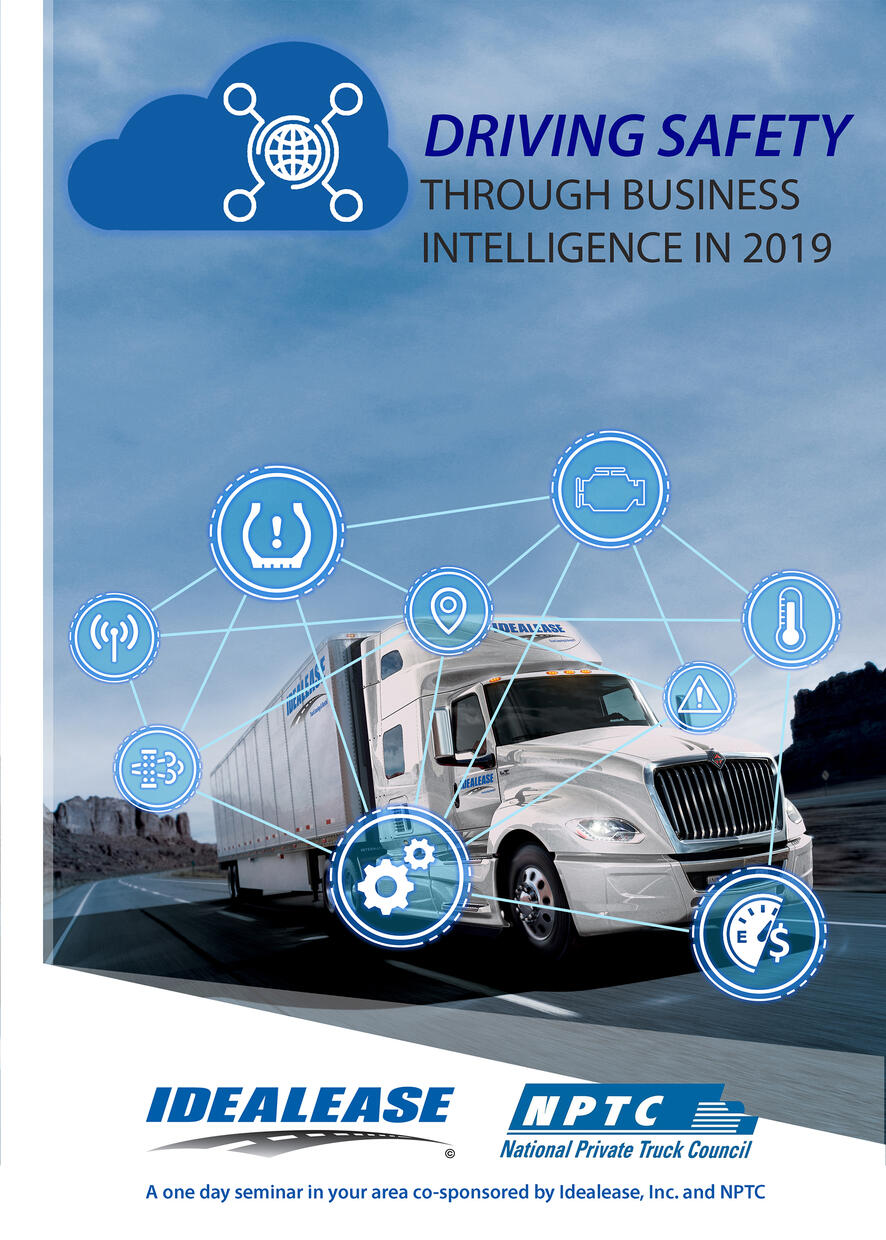 NORTH BARRINGTON, IL., January 29, 2018—Idealease, Inc., North America's premier full-service commercial truck leasing, rental and maintenance company, in partnership with the National Private Truck Council (NPTC), is sponsoring a series of one-day private truck fleet safety and compliance seminars called "Driving Safety Through Business Intelligence in 2019."  The seminars will be held in 29 cities in the U.S. and Canada from March thru October 2019.  They are provided at no charge for novice and experienced private truck fleet professionals who are Idealease customers, potential customers, or NPTC members.
"Driving Safety Through Business Intelligence in 2019" will focus on the new safety technologies available on trucks today, how to comply with the Federal Motor Carrier Safety Administration (FMCSA) Regulations and National Safety Code (Canada), and the FMCSA Compliance, Safety and Accountability (CSA) program.
Virtually all aspects of commercial truck operation are covered including: applicability of federal and state safety regulations, driver qualifications, hours of service (drivers' daily logs), drug and alcohol testing regulations, and vehicle maintenance and inspections. This seminar provides a step- by-step approach to help attendees maintain a safe fleet by reducing violations and accidents, and controlling liability exposures.
These seminars deliver up-to-the-minute information to keep private truck fleet managers thoroughly informed about current and proposed motor carrier regulations that affect their operations and provide important risk control techniques to maintain insurability and control losses. Attendees also learn how to enhance their safety programs above and beyond regulatory requirements.  Last year more than 3,000 private truck fleet professionals attended the Idealease/NPTC Safety Seminars.
All seminar attendees receive the Idealease Guide to Transportation Safety and Compliance, a manual that assists fleet managers with safety and compliance documentation, the Idealease Pre- and Post-Trip Inspection DVD for driver education, and a subscription to the Idealease Safety Bulletin, a weekly safety and compliance e-mail publication.
About National Private Truck Council
Founded in 1939, the National Private Truck Council (NPTC) is the only national trade association
exclusively representing the interests of the private truck industry and corporate/business private
truck fleet management. NPTC is the premier marketplace of information, networking and skill
building for private truck fleet professionals as it leads in shaping the future of corporate
transportation. Additional information is available at