Back to top
Four Idealease, Inc. Professionals Receive Certified Transportation Professional Designation from the National Private Truck Council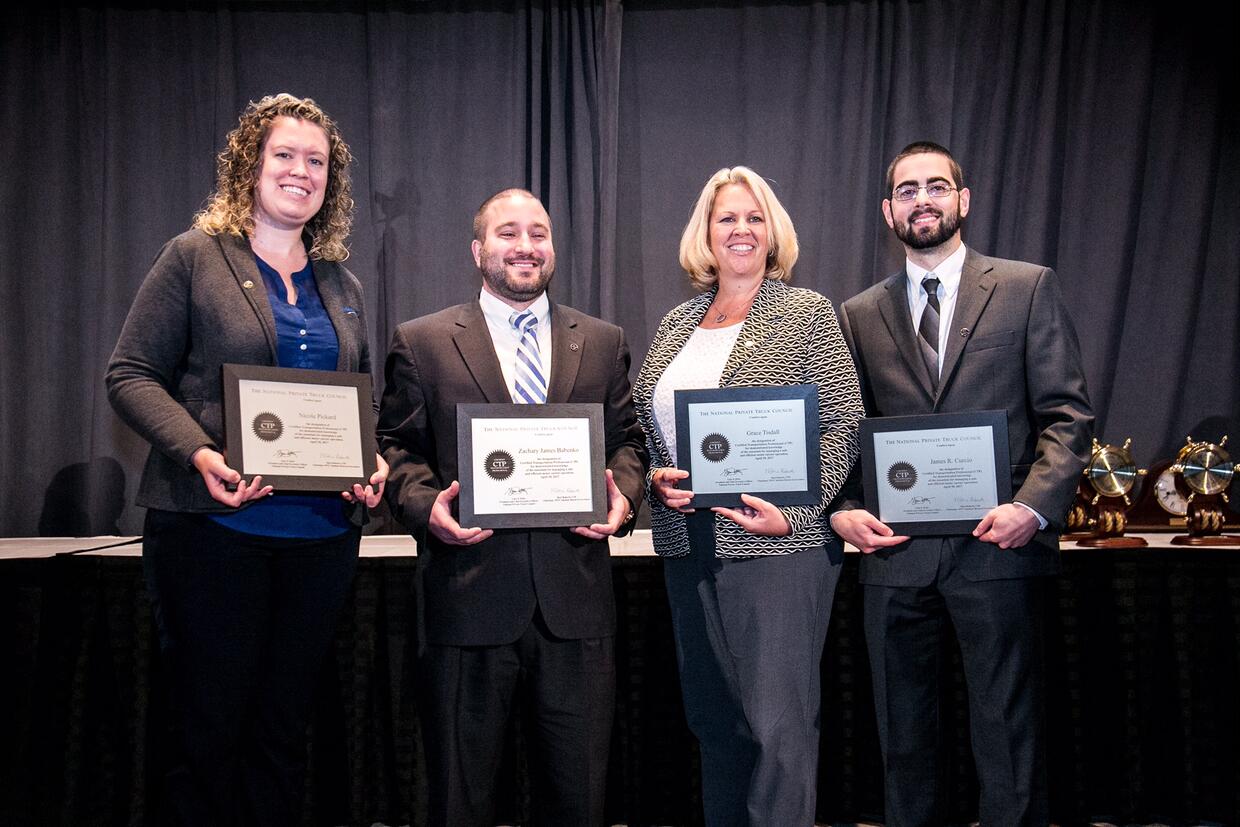 Idealease, Inc. is pleased to announce that Zachary Babenko, Manager Sales Engineering; James Curcio, Order Control Manager; Nicole Pickard, National Accounts Operations Administrator; and Grace Tisdall, Director of Tier 1 National Accounts, have earned the prestigious Certified Transportation Professional® (CTP) designation from the National Private Truck Council Institute (NPTC), the educational and professional certification arm of the NPTC. They were honored at the NPTC Annual Education Management Conference & Exhibition held on April 30-May 2, 2017, in Cincinnati, Ohio.
The CTP® program was established in 1993 to enhance the respect and prestige of private fleet and transportation professionals. Since then, more than 1,000 people have earned this elite designation, a benchmark of excellence in the private fleet industry. To earn the CTP designation, individuals must demonstrate the knowledge and ability to understand complex operational and regulatory issues related to private fleet management, identify and evaluate potential costs and savings, and develop systems and practices that meet their company's transportation needs and objectives.
Babenko began his career at Idealease as a Sales Engineer in July 2013. He became the Lead Sales Engineer in 2015, and was recently promoted to Manager, Sales Engineering. The Sales Engineering department works very closely with the National Account Area Vice Presidents to spec, price, and build a truck or tractor that complies with diverse customer requirements for specific trucking applications. Zachary received his bachelor's degree in Management from DePaul University in 2011.
Curcio joined Idealease in 2012 as an intern in the IT department. In July 2013, he took a full-time position as the Idealease Order Control Manager where he oversees the ordering and build process of all of National Account chassis, bodies, reefers, lift gates, and on-board technology. James earned his Master's degree in Information Systems and Business from Benedictine University in 2014.
Nicole Pickard, Zachary Babenko, Grace Tisdall and James Curcio with their Certified Transportation Professional (CTP) awards from the NPTC. Pickard joined Idealease five years ago as the National Accounts Operations Administrator. She is responsible for National Account transfers, portal billing procedures and enhancements, in-service tracking of new National Accounts units, customer campaigns, and operational support throughout the term of the lease to Idealease customers and locations. Nicole earned her bachelor's degree in Communications from Illinois State University in 2011.
Tisdall began her career with Idealease in January 2005. As the Director of Tier 1 National Accounts, she and her team are responsible for rating, communicating, and collaborating all National Account opportunities with private fleets that have 50 or less units in their entire fleet.
"Idealease is thrilled to have four accomplished commercial truck transportation professionals join our elite group of 13 Idealease staff members who have earned this prestigious designation," said Daniel J. Murphy, President and CEO, Idealease Inc. "The CTP certification is a benchmark of professionalism and demonstrates a solid commitment to enhancing one's knowledge of every aspect of private fleet management. By earning the CTP designation, Zachary, James, Nicole and Grace have demonstrated they have the knowledge, training and skills to help our private fleet customers operate as efficiently as possible."