Back to top
Supporting the Business of Building Materials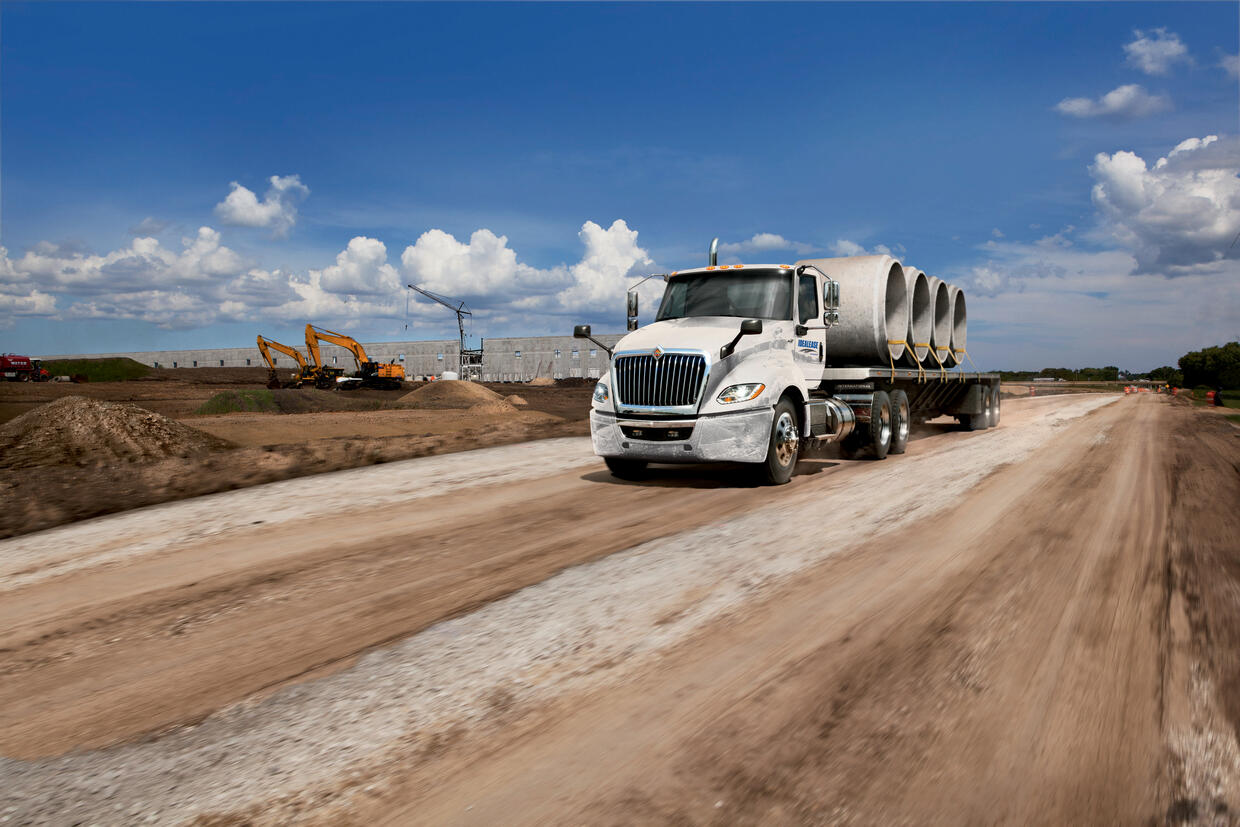 Building the Best Value
Every industry has a particular set of needs for its customers, and the Building Materials industry is no exception. Profit margins can be thin and the need to return the best value possible for your customers is of utmost importance. Any delay in a project is money lost, so reliable and efficient transportation is key and we help you deliver. Literally.
The Perfect Foundation
Whether it's concrete or customer service, the foundation of your business thrives on the quality and dependability of the tools used to build it. If your business is building materials, some of the most critical tools you have are your trucks.
Talk to us about what you do and what you need, and we''ll custom spec a fleet with features that meet—and even exceed—the needs of any job, such as:
- Air slide fifth wheels
- Boom and crane capabilities
- Engine exhaust braking
- Flatbeds with forklift mounts
- Heavy front and rear axles
- Power liftgates with walk ramps
And, we keep you in regulatory compliance by featuring Electronic Logging Devices (ELDs) that make tracking Hours of Service, automatic auditing, and any violation alerts as smooth as polished concrete.

Just-In-Time, Right on Time
Construction can't stop because material deliveries are running late. Timing the arrival of needed components is crucial to keeping to your customer's schedule and allowing them to earn the maximum return on their investment.
We possess the expertise to help you know exactly where your trucks are at any given time through advanced telematics that work in tandem with our remote diagnostics system. Beside location, remote diagnostics gives you real-time diagnostics and alerts of any possible issues with the vehicle up to, and including, near instantaneous notification of any fault codes.
Knowledge is power. At Idealease we give your customers an edge over the competition when it comes to uptime, by allowing them to proactively schedule service and maintenance before any vehicle has a problem.
 
Service That Raises the Roof
And when you need service, we're ready. With Priority Service, there's no waiting in line—pull your rig in and OEM-certified technicians will get right to work. Or, save on fuel and time by scheduling maintenance and minor repairs during your off-hours and take advantage of our Mobile Service that comes to you. In a pinch, Idealnet's 24/7 roadside assistance will get your vehicle and driver rolling to keep your business running on time, helping your projects stay on schedule.
 
Building Even Greater Success
Are your customers building a new subdivision, a warehouse, or an office building? Partnering with your friends at Idealease lets you confidently support their project in a predictable, professional, and profitable way—something we can all appreciate.
Reach out to the building materials experts at Idealease to spec your trucks to fit your needs, maximize your fleet's uptime, and deliver on-time for your customers from the first shovel to the last nail.