Back to top
Spring and Summer CVSA Round-Up!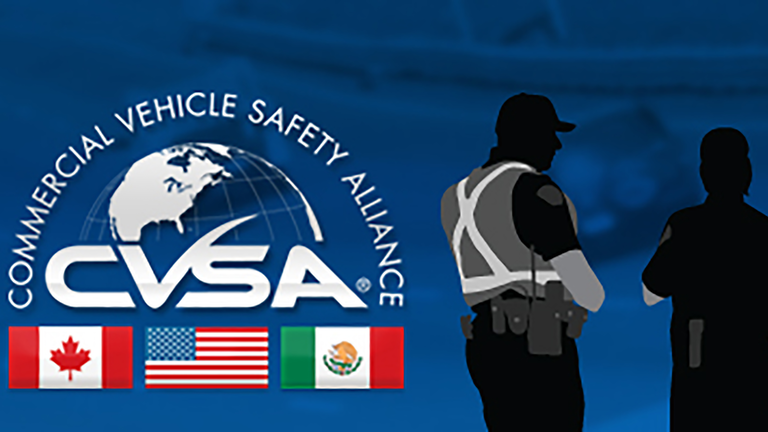 Spring Into Safety and Compliance
The folks over at the Commercial Vehicle Safety Alliance (CVSA) have been busy on a number of fronts, and we're here to get you up to speed on everything you need to know.
The new Out-of-Service Criteria (OOSC) changes have recently gone into effect, an International Roadcheck is coming up very soon, and Operation Safe Driver Week has been scheduled for the summer—that's a bunch to keep track of.
Let's dive into each and see what's in store for 2021.
 
Out-of-Service
Last October, the voting members of the CVSA communicated and ratified four changes to the existing OOSC and they just took effect—as they do annually–on April 1st.
Here's a quick look at what has changed:
An Automatic Onboard Recording Device (AOBRD) cannot be used in place of an Electronic Logging Device (ELD) when an ELD is required, unless you are a carrier that is exempt
Pending ELD implementation in Canada, terminology was added to cover uses of both "daily log" and "record of duty" in regulatory use across provinces and territories
Relatedly, a driver in Canada who is found without an ELD but is still maintaining another for of a Record of Duty Status (RODS) will not be placed Out-of-Service (OOS)
Across Canada and the U.S., an operative center high-level stop lamp is required to pass a critical vehicle inspection but will not considered to be OOS
For all the details of the latest OOSC changes, read the CVSA's full document here.
 
International Roadcheck
Coming up quickly, the CVSA has their annual International Roadcheck occurring from May 4th through the 6th. This year, the continent-spanning event will focus closely on a vehicle's lighting and a driver's Hours of Service. Why? Well, both didn't fare so well last year—at all.
"Lamps inoperable" was the number one vehicle violation in fiscal 2020, accounting for 12.24% of all violations according to the Federal Motor Carrier Safety Association (FMCSA). Likewise, hours of service violations made up 34.7% of all driver out-of-service conditions during 2020's International Roadcheck—the highest percentage of driver violations.
In case you missed it, you can learn more about the upcoming Roadcheck and download a handy tip sheet for carriers and drivers by reading our Safety Bulletin here.
 
Operation Safe Driver Week
Then, it's on into summer for Operation Safe Driver Week from July 11th through the 17th, and the area of focus for this event will be speeding. Why? Because an alarming increase in fatalities last year demands closer scrutiny on commercial and private road-going behavior.
Despite an overall drop in roadway travel throughout 2020, traffic fatalities actually increased. Figuring in the pandemic, total miles driven fell 13% over the previous 12-month period and yet the estimated on-road death rate increased by 24%.
That's the biggest year-over-year jump the National Safety Council (NSC) has calculated in 96 years. Beyond speeding, law enforcement will also be looking closely for other dangerous behaviors like aggressive, distracted, reckless, or impaired driving, and failure to change lanes properly, obey traffic control devices, or use a seatbelt.
You can read more about Operation Safe Driver Week on the CVSA's website here.
 
Back in the Saddle
As the world starts opening up and commercial and private vehicle traffic begins to build up to pre-pandemic levels of congestion, it's worth taking extra care to be sure your trucks and your drivers are up to par when it comes to road worthiness.
Whether you are driving on the clock or just running errands on your own, keep these initiatives from the CVSA in mind as they help everyone to reach their destination safely—no muss, no fuss.