Back to top
Have You Elevated Your Fleet?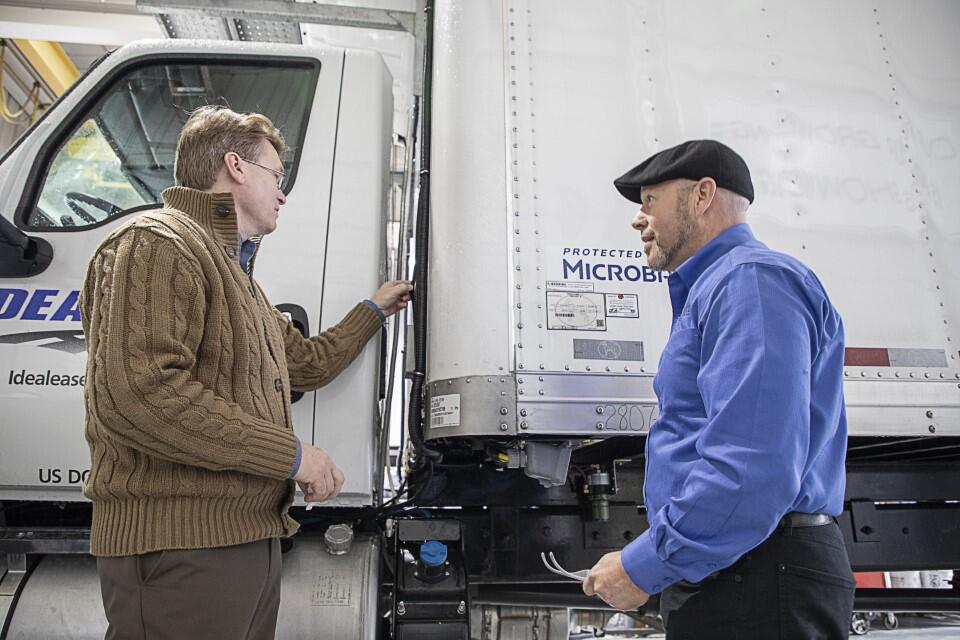 Partners in Performance
Your fleet managers and drivers have tough jobs. There are a lot of responsibilities resting on their shoulders; from on-road performance and safety to protecting the bottom line, and everything in between. There are a lot of moving parts in the transportation industry—both literally and figuratively.
How could you improve your business if you had a partner to help simplify some of your regular duties and increase overall effectiveness? A partner to help train your drivers to reduce risky and costly behaviors. Even better, a partner that makes it simpler for your fleet managers to collect, interpret, and instruct drivers based on real-world data.
Idealease is that partner, and they've got the system and the numbers to back it up.
Next Level Results
Customers that take advantage of Elevate, Idealease's Driver Performance System with monthly Driver Scorecard(s), are equipped with information and feedback that help address any potential for improved performance from drivers, wear and tear on equipment, and lower operating costs.
Check out success stories from fleet managers who have seen the benefit firsthand and are now some of Elevate's biggest fans:
Customer #1 – A 650-unit fleet that runs 20 million miles per year:
Saved $1.1 millions dollars in fuel over two years
Reduced accidents by 22% year-over-year
Big savings on fewer rentals and lower insurance
Customer #2 – After focusing on just one tractor over three months:
Went from 191 driving events to 119, and then to just 8
Data proved slowing down a few more miles per hour, on a decline, would reduce events
Manager to driver training and communication corrected costly behaviors
Customer #3 – Fuel economy for savings and the environment:
Fleet began coaching with Elevate when averaging 9.38 miles per gallon  
Now average over 10 miles per gallon (for the last 4 months straight)
Last month was their highest yet— 10.39 miles per gallon!
Pretty compelling, yes?
Elevate Your Game
Elevate is the Driver Performance System that measures your drivers' Key Performance Indicators (KPIs) from Driving Events, Idle Time Percentage, Idle Shutdown Timer, PTO hours and other metrics to identify the best opportunities for improvement. And when your fleet manager is ready to have a coaching session, the Idealease Business Intelligence team will have them ready with detailed performance analytics.
Fleet managers who actively work with the Elevate program see a significant improvement in:
Fuel savings
Idle time
Wear and tear on vehicles
Maintenance costs
Downtime
Operating costs
Idealease makes performance improvement easy with Elevate. We collect performance data,  analyze it, share the results, and give you specific details to help your fleet managers coach, train, and make an immediate impact with drivers that can have a significant positive impact on every aspect of your business.
If your company isn't raising the bar (and your bottom line) with Elevate, reach out to Idealease's Business Intelligence team or your Area Vice President to learn how you can benefit.