Back to top
Give Me a Brake Safety Week!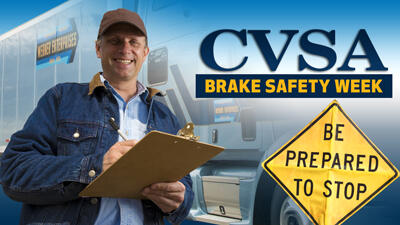 Safe at Every Speed
Whether navigating through a crowded business district or expertly controlling a descent out of a steep mountain pass, brakes are the most important safety system on every vehicle. Any speed needs to be controllable to be safe, and to control speed you need effective and predictable braking. Even cruising along at legal speeds is only as safe as your ability to stop without incident, or even failure.
As TV personality Jeremy Clarkson has said, "Speed has never killed anyone. Suddenly becoming stationary—that's what gets you."
 
Brake Safety Week
Would you be surprised to learn that nearly half (45%) of all roadside inspections uncover issues with braking systems and brake adjustments? Not only that, but both systems and adjustments are ranked as the #1 and #3 most common out-of-service violations cited by the Commercial Vehicle Safety Alliance (CVSA), respectively.
To help bring focus to an extremely important safety issue, next week, the CVSA is holding its annual Brake Safety Week, August 23rd-29th. Originating in Canada, Brake Safety Week caught on and expanded quickly throughout all of North America. Every year anywhere from 40-60 provinces, territories, and states participate, so a little preventative maintenance will go a long way in case your drivers get stopped for inspection.
Inspection sites are chosen by local enforcement agencies and can be anywhere, but tend to be located in accident-prone areas, construction zones, or in mountainous states right before a long downgrade. And, inspectors have the option of performing a Level IV inspection on just the braking system, or a Level I inspection that covers the whole vehicle, so it's good to be prepared.
 
Idealease Brakes for You
The time-tested, best way to avoid a violation or costly out-of-service designation is to be proactive with vehicle service and maintenance. Idealease's Mobile Service comes to you to make sure your fleet is regulation compliant by catching a chaffed rubber hose or a kinked thermoplastic hose before an inspector does.
Regardless, things happen. Even if something as simple as brakes being out of adjustment stops your vehicle, the brakes need to be readjusted and the cause needs to be corrected before the vehicle will be cleared. To help correct and problems in transit, Idealease's 24/7 roadside assistance program, Idealnet, can get to an inspection site and help get your driver rolling as quickly as possible.
In advance or in a pinch, Idealease is here to support you and your drivers, not only during Brake Safety Week but through every week and every mile, because safety doesn't stop with just brakes.