Back to top
Every Season Offers a Reason to Give Back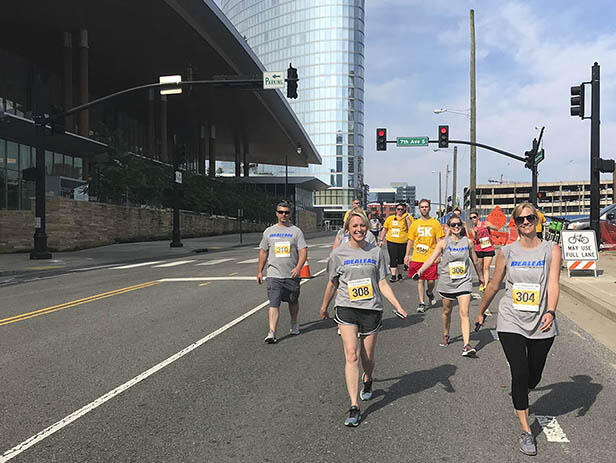 As another year winds down and we prepare to enjoy the holidays with friends and family, it's the perfect time to recognize, celebrate, and share just a few of the good deeds Idealease and our locations have done to contribute to communities across North America throughout 2019.
When it comes to giving back, the Idealease family never fails to amaze! While we can't share ALL of our great work (as it would take so much time this post might roll right into the new year), we chose a few highlights from several Idealease locations helping in the communities where we thrive.
Here are some examples:
Idealease of Central Wisconsin, along with fleet customers, participate in an annual Truckers for Tots holiday program, raising money for toys for underserved children in surrounding areas.

Idealease of Baltimore raised money to provide a full Thanksgiving or Christmas dinner to families as part of the Loaves & Fishes food pantry, "Have a Heart, Lend a Hand" campaign in Baltimore, Maryland.

Idealease of Reno/Sparks provided wildfire relief supplies through Project Bear Hugs in Reno, Nevada and Paradise, California.

Roberts Idealease donated a rental truck for delivering setup equipment, waters, and snacks and managed a rest stop and for the Bike MS: Cactus and Crude Ride in Tahoka, Texas.

IRL Idealease painted the art room for the Canadian Mental Health Association as part of the Pushor Mitchell United Way Day of Caring in Kelowna, British Columbia.

Peterson Idealease delivered Meals on Wheels to people in need in Portland, Oregon.

Lewis Motor Sales Idealease supported the Barrie Terry Fox Run for cancer research in Barrie, Ontario, Canada.

Tampa Idealease lent trucks to the Hillsborough County Sheriff's Office to transport school supplies and bike helmets donated to students in schools in Tampa, Florida.

Bluegrass Idealease provided necessary home improvements to people living in the Appalachian Mountains.

Maxim Idealease walked and raised $230,024 for CancerCare Manitoba Foundation's Challenge for Life event, hosted a pancake breakfast, raising more than $27,000 for the Christmas Cheer Board, and donated a truck for them to use.

Cumberland Idealease organized a donation drive and provided relief supplies including more than 30,000 water bottles transported in three trucks to the Second Harvest Food Bank to help victims of Hurricane Florence in North Carolina.

Summit Idealease raised funds for St. Jude Children's Research Hospital in Memphis, Tennessee.

Pliler Idealease provided coaches and referees for The Miracle League of East Texas which helps special needs children play baseball on a specially designed field in Longview, Texas.

Wallace Idealease helped build a Habitat for Humanity home for a family in Fort Myers, Florida.

Idealease Corporate participated in the Special Olympics of Illinois' Truck Convoys in Tinley Park, Illinois and Hoffman Estates, Illinois, and in the Kelly Cares Foundation golf outing to raise money for community health and education in South Bend, Indiana.

Highway Motors Idealease co-hosted a group of young professionals from Taiwan through a Group Study Exchange in Harrisonburg, Virginia.
The variety of examples above serve to show that while the winter holidays are thought of as the season of giving, the end of the year is not the only time the areas we care about need our help. Building and fostering stability means reaching out beyond the season and beyond our day-to-day circle of influence, and into places where we can have a meaningful impact on the lives of people who need a hand.
Idealease CARES started in 2015 to foster a spirit of giving and support to help the communities where we—and our customers—work and raise our families. We are proud of how we represent Idealease as a force for positive influence and change. In the new year, we encourage everyone to get out there and volunteer whenever you can. We'll be cheering you on!