Back to top
Bringing Up the Rear, Safely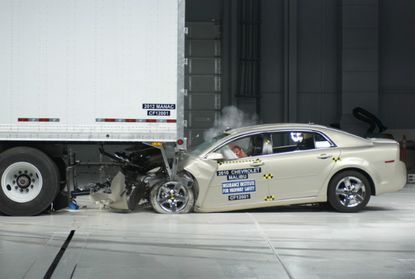 A Decent Proposal
The Federal Motor Carrier Safety Administration (FMCSA) has proposed to include the rear impact guard, or underride guard, to the list of items that are required to be checked out during every commercial vehicle's annual inspection.
The request for this addition was made in a petition to the FMCSA from the Commercial Vehicle Safety Alliance (CVSA), who noted that while rear impact guards are examined during roadside checks as part of the North American Standard Inspection (NASI) protocol, the vast majority of commercial vehicles are not inspected roadside on an annual basis.
Rear impact guards have been required on commercial vehicles since the early-1950's but have never been included on the list of vehicle components in Appendix G of the Federal Motor Carrier Safety Regulations, that need to be inspected annually.
Inspect What You Expect
In response to the proposal, a number of U.S. Senators asked the General Accountability Office (GAO) to prepare a report on truck underride crashes after reviewing relevant data and interviewing knowledgeable stakeholders. The GAO published the report (19-264) of their findings in March of 2019 and concluded that the lack of an annual inspection of rear guards has potential negative effects on the safety of the traveling public.
They clearly stated, "without explicitly including the inspection of the rear guard in Appendix G, there is no assurance that rear guards in operation will be inspected at least annually to ensure they perform as designed to prevent or mitigate an underride crash."
The FMCSA is also proposing to amend the regulations to match changes adopted by the National Highway Transportation Safety Administration (NHTSA) that exclude RCC horizontal discharge trailers from rear impact guard requirements. These trailers are used to deliver asphalt to paving machines that attach to the RCC's rear axle, so any guard would interfere with their function.
Finally, another change would bring regulations into line with the NHTSA's allowance that the rear impact guard's certification label can be applied on either the forward or rearward facing surface of the guard, as long as it doesn't interfere with the required reflective strip.
Got Your Six
Considering how commercial vehicles with a missing or damaged rear impact guard can pass an inspection currently, this proposal feels like a whole lot of common sense. As the pandemic starts to wind down and passenger traffic starts to rebound on the highways, repairing and maintaining functional rear impact guards on every truck means safer travel for commercial equipment, the drivers, and fellow road-going travelers alike.